Your Homey has been updated!
Je Homey is geüpdatet!
Learn what's new in Homey v1.5 Bekijk hieronder wat nieuw is in v1.5

ZigBee support
The wireless protocol 'ZigBee' has been unlocked and devices using that technology now work with Homey.
Already got ZigBee devices? Install one of our ZigBee apps: IKEA Trådfri or Osram.
ZigBee ondersteuning
Het draadloze protocol 'ZigBee' is ingeschakeld en apparaten met die technology werken nu met Homey.
Heb je al ZigBee apparaten? Installeer een van onze ZigBee apps: IKEA Trådfri of Osram.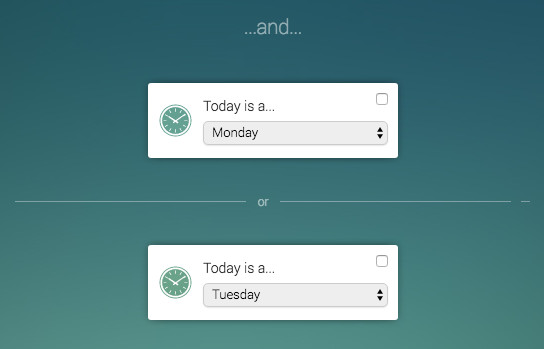 Groups in the Flow 'and'-column
Up to three groups can now be made in the 'and'-column. When at least any of these groups has cards that are all verified, the cards in the 'then'-column are run. Otherwise, the cards in the 'else'-column are run.
Groepen in de Flow 'en'-kolom
Tot drie groepen kunnen nu gemaakt worden in de 'en'-kolom. Als minstens één van deze groepen alle kaarten heeft geverifieerd, dan worden de kaarten in de 'dan'-kolom uitgevoerd. Anders worden de kaarten in de 'anders'-kolom uitgevoerd.
What else is new?
Added various device Flow cards
Added Apps SDK v2
Upgrade to Node.js v8
Added support for Image Tags
Added a settings page for Insights
Added an ARP Manager for device discovery
Added device class for Vacuum Cleaner
Improved generic speech responses
Visit our Issue Tracker for an overview of all fixed bugs in this version.
Wat is nog meer nieuw?
Verschillende generieke apparaat Flow kaarten toegevoegd
De Apps SDK v2 is toegevoegd
Geüpgrade naar Node.js v8
Ondersteuning toegevoegd voor Image Tags
Een instellingen-pagina voor Inzichten
Een ARP Manager toegevoegd voor het vinden van apparaten
Een device class toegevoegd voor stofzuigers
Verbeterde spraak antwoorden voor generieke vragen
Bezoek onze Issue Tracker voor een overzicht van alle overige bugs die zijn opgelost in deze versie.